As I was planning to travel to Loei which is in north part of Thailand, I decided to visit Chiang Khan this time. I came to know Loei because I have tried Thai brandy before and learned that there are vineyards there. It was only 1 hour flight from Bangkok and 1 hour travel by car from Loei airport.
I took Nok air this time. Funny design, it's like a real bird.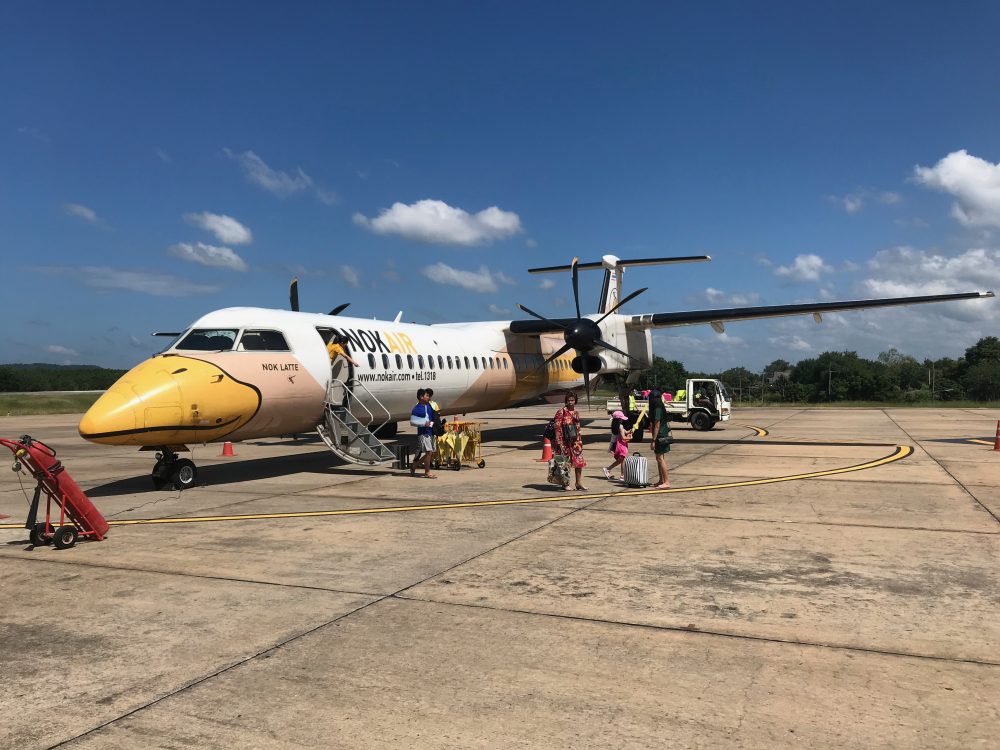 Taking a van from Loei airport, I arrived in Chiang Khan walking street after 1 hour travel.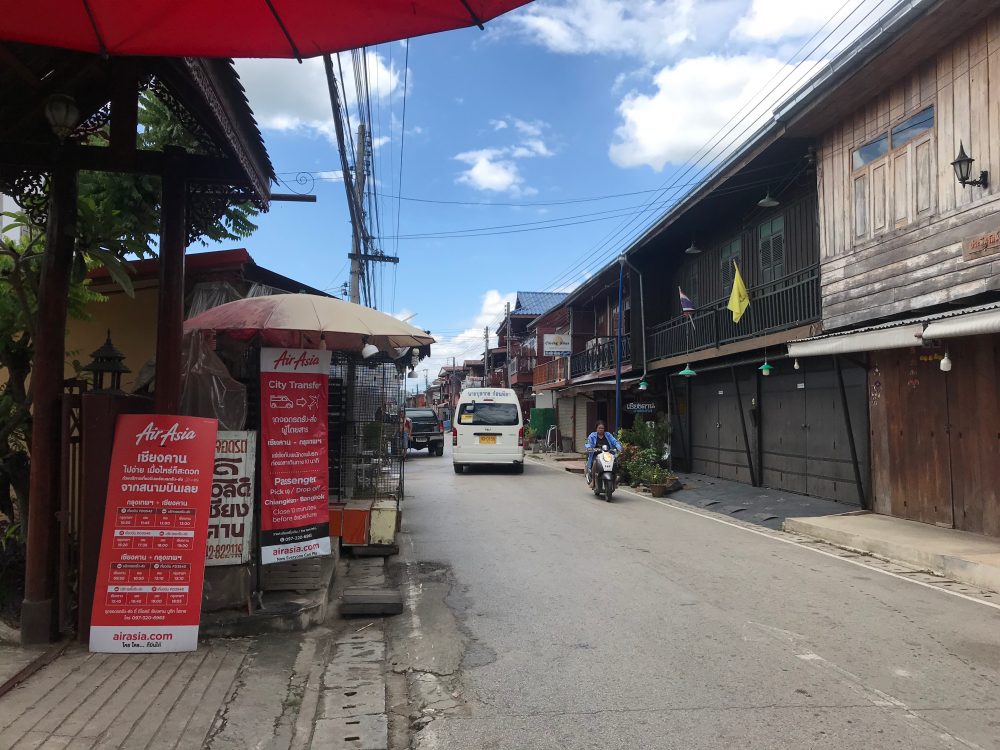 There was almost nobody walking the street.
Finding a narrow passage in the street and looking ahead, I could see a hint of a river spreading over there.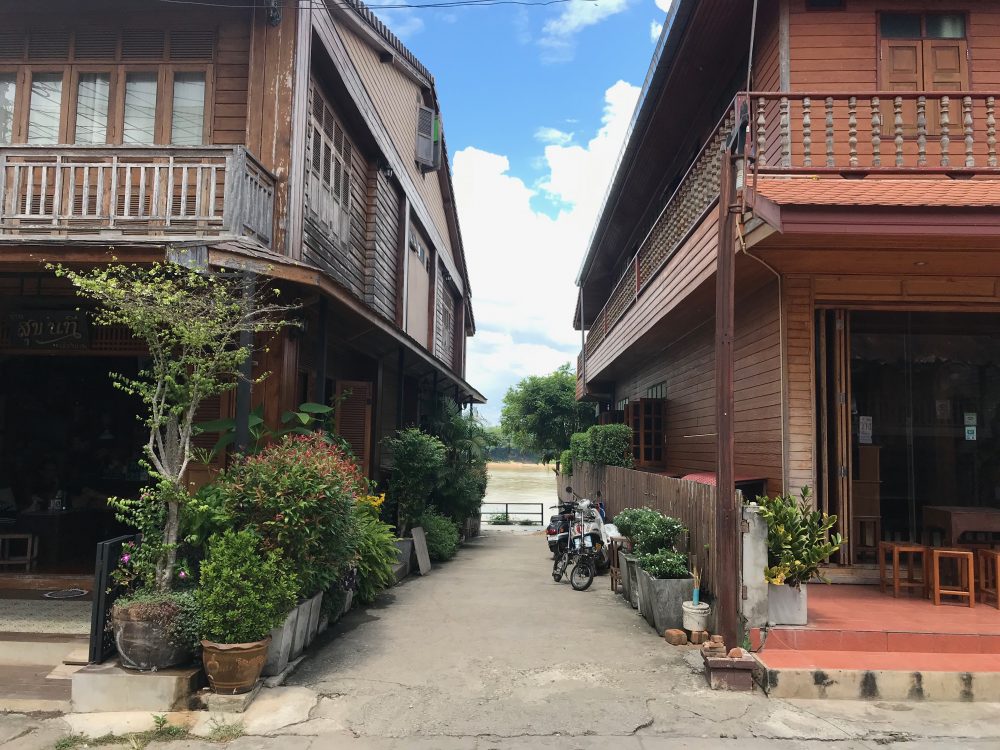 Yes, it was renowned Mekong river. What you see in the opposite side of the river is Laos.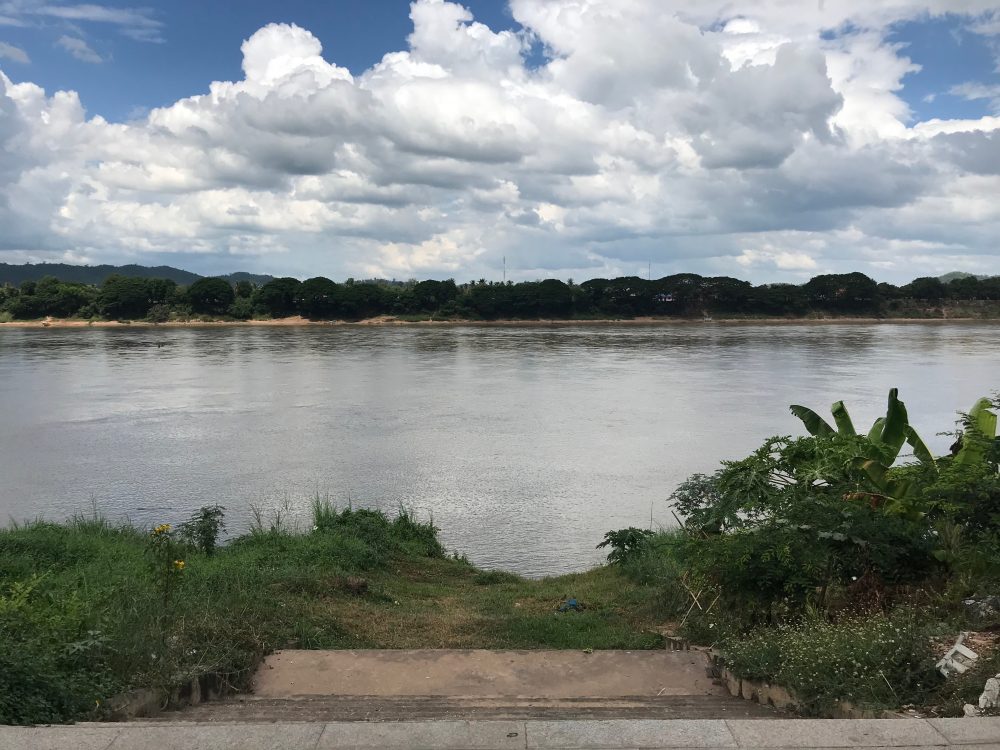 There was a long walking road straight ahead to a distance.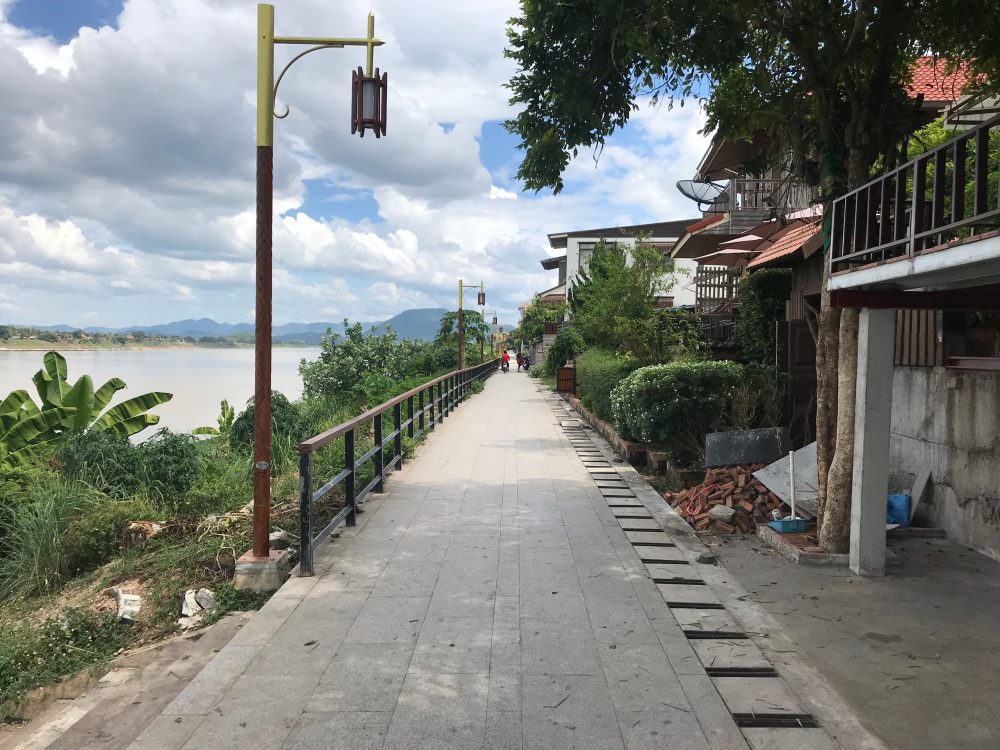 Time flows slowly in nature.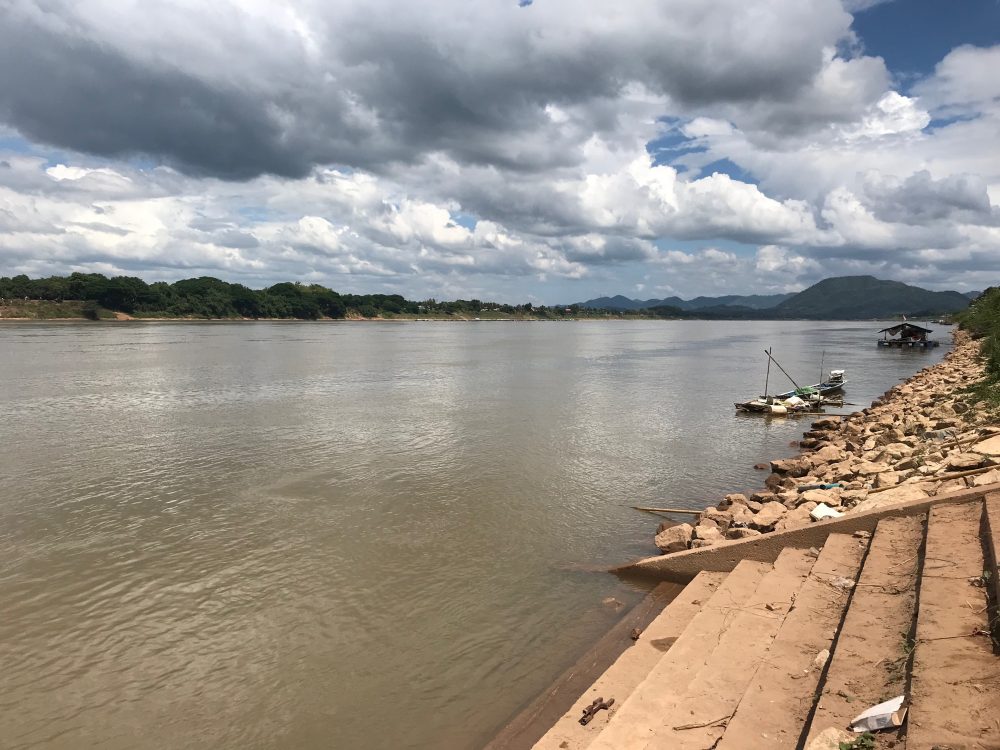 Colorful ATM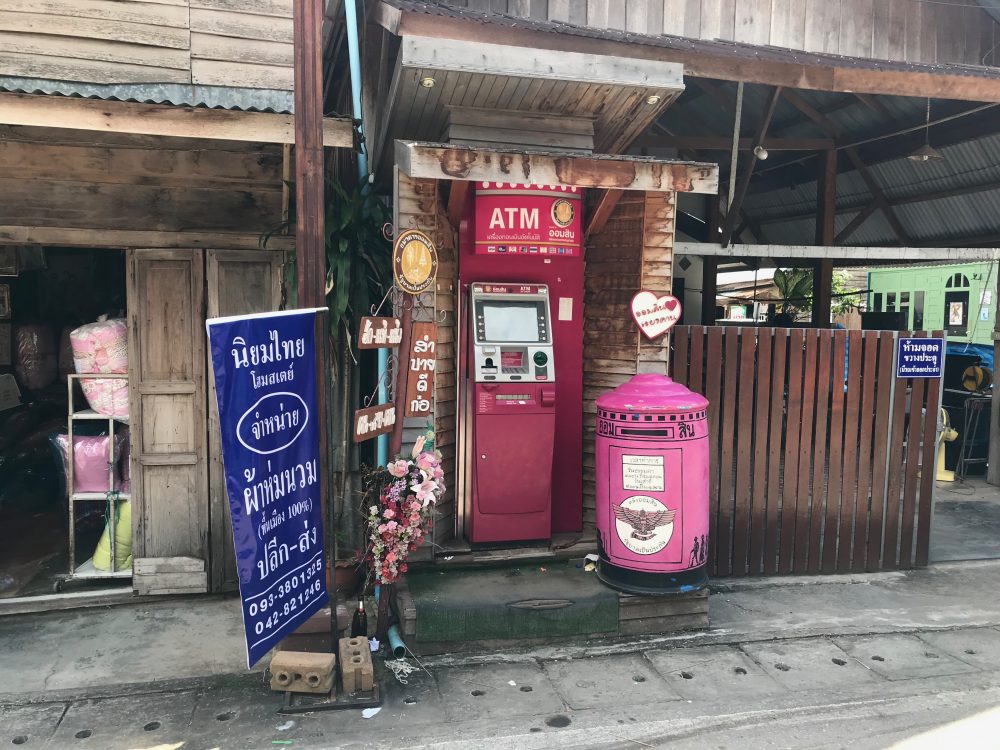 Post box or trash can?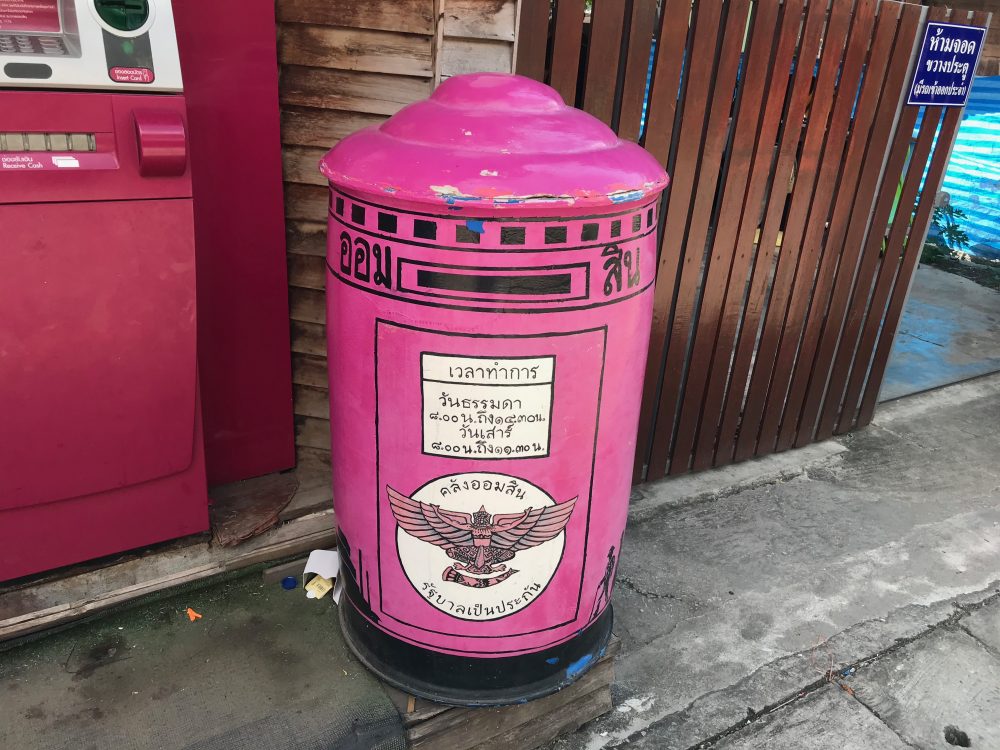 I don't know what those are but they are nice, haha.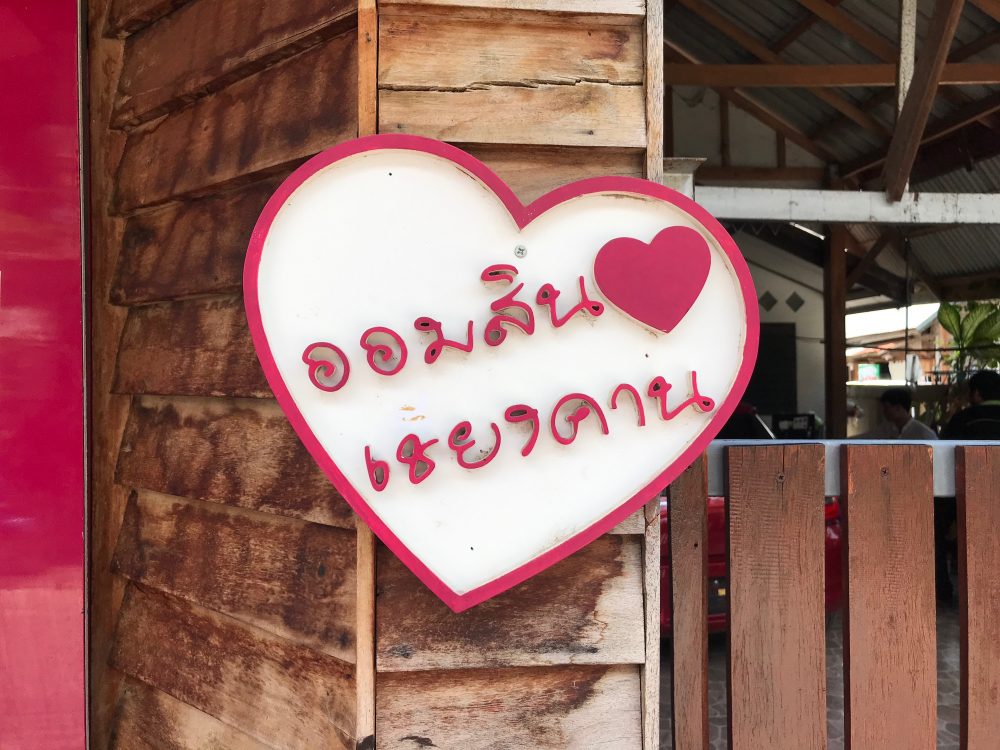 Found a restaurant in the street, I had lunch.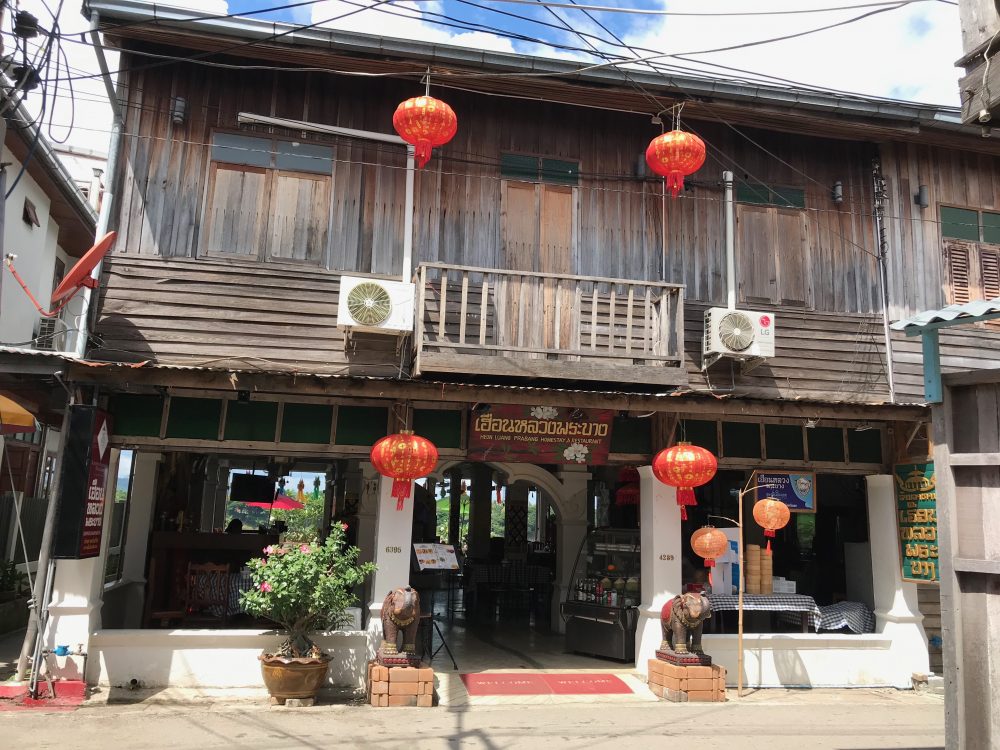 Beautiful decorations hung from the ceiling. Bell sound came from them in the air and it was nice to so as to forget the hotness.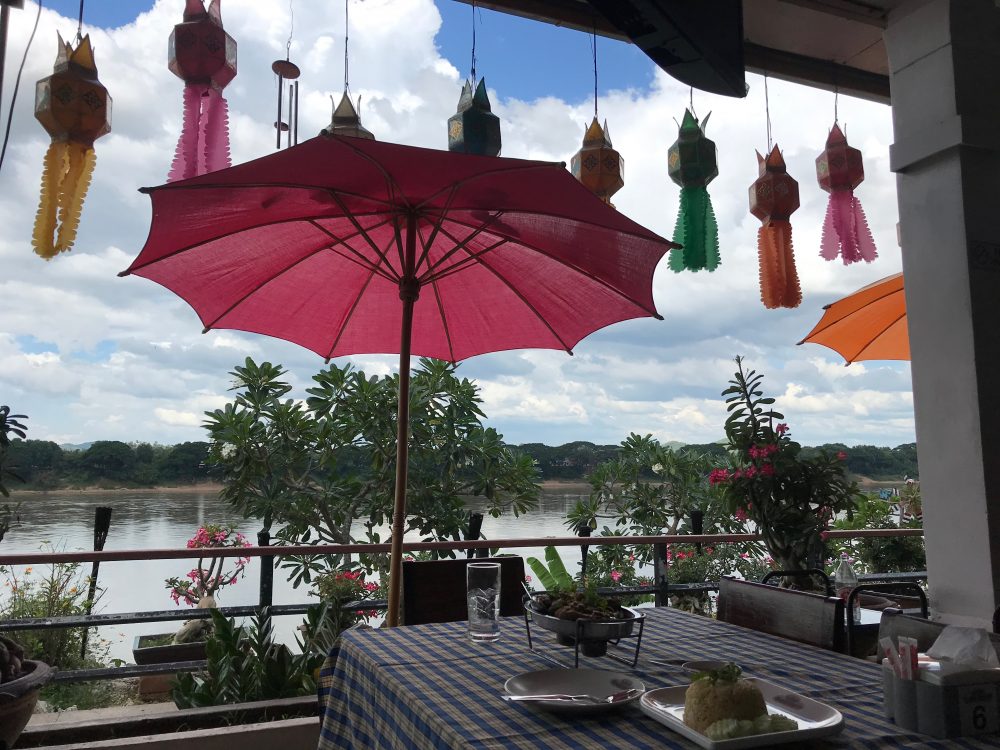 Salty egg fried rice and pig feet dish with beans. It was't hot, spicy, nor salty but simple taste and I liked it.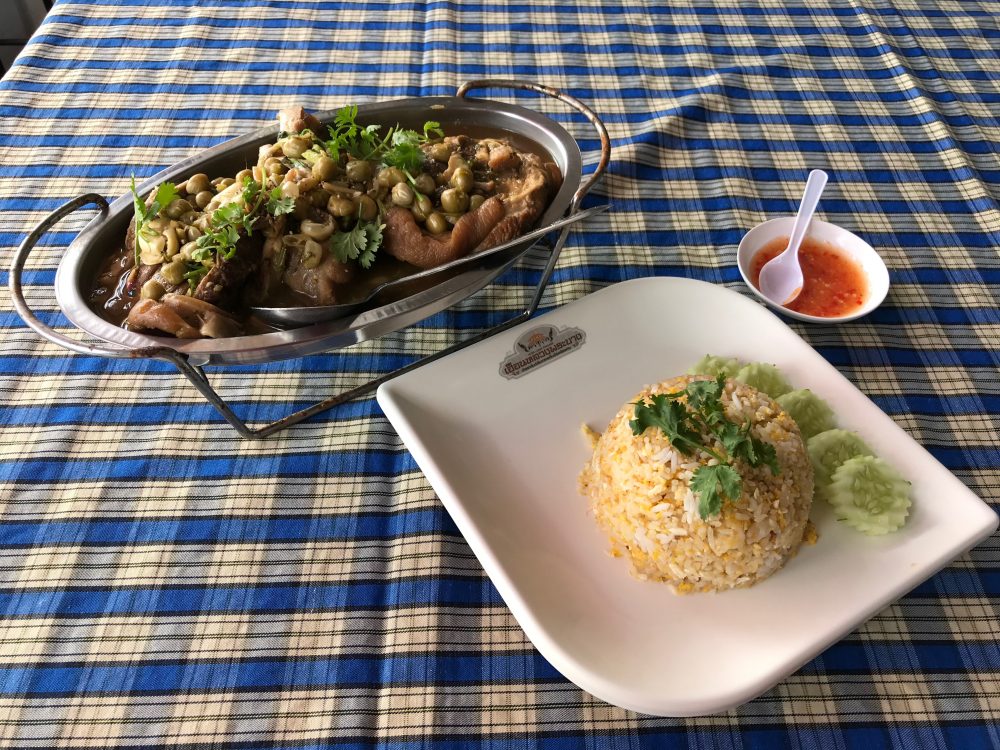 After lunch, I checked in my hotel nearby. As I needed to wash my clothes, I asked a woman in the reception where I could find a laundry machine. Unfortunately there wasn't a laundry machine but she kindly drew a map to get to a place to wash my clothes near the hotel.
I imagined that there would be a laundromat but it was the cleaners like this.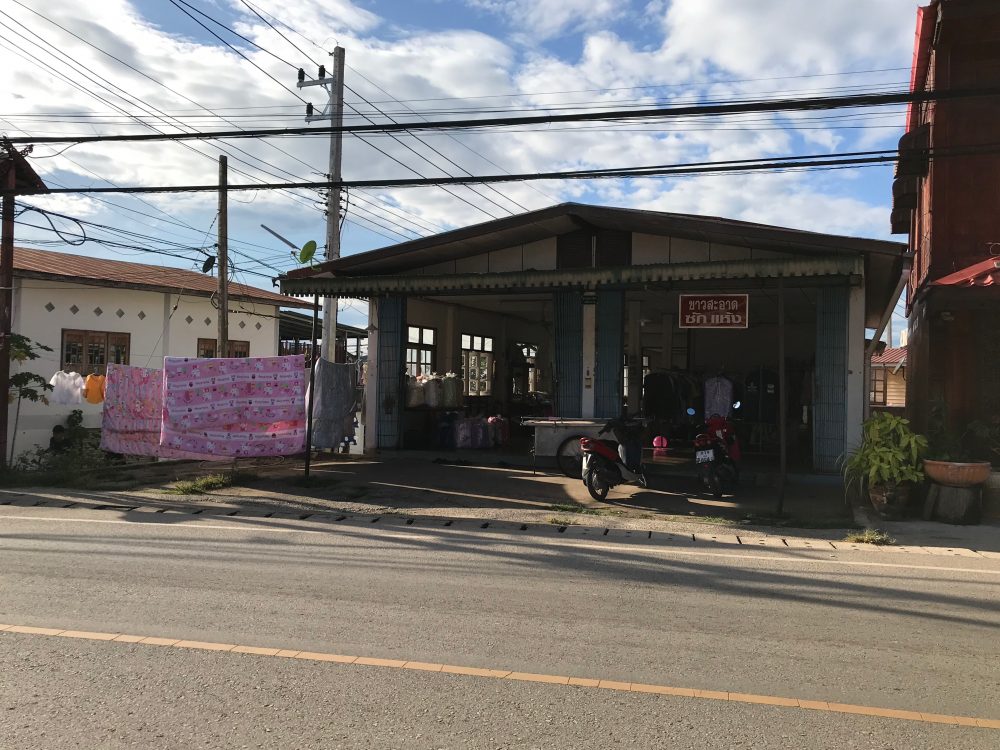 Oh my.. I had no clothes left to wear for tomorrow but there was no washing machines and it would take time for clears to finish my cloths. I was about to go through the cleaners and come back to my hotel but the woman in my hotel's reception came across me by coincidence and talked to the staff in the cleaners. She checked everything with the cleaners and said that she would picked my clothes up and give it back to me in the next morning. How kind she is..
This is the hotel I stayed in the first night.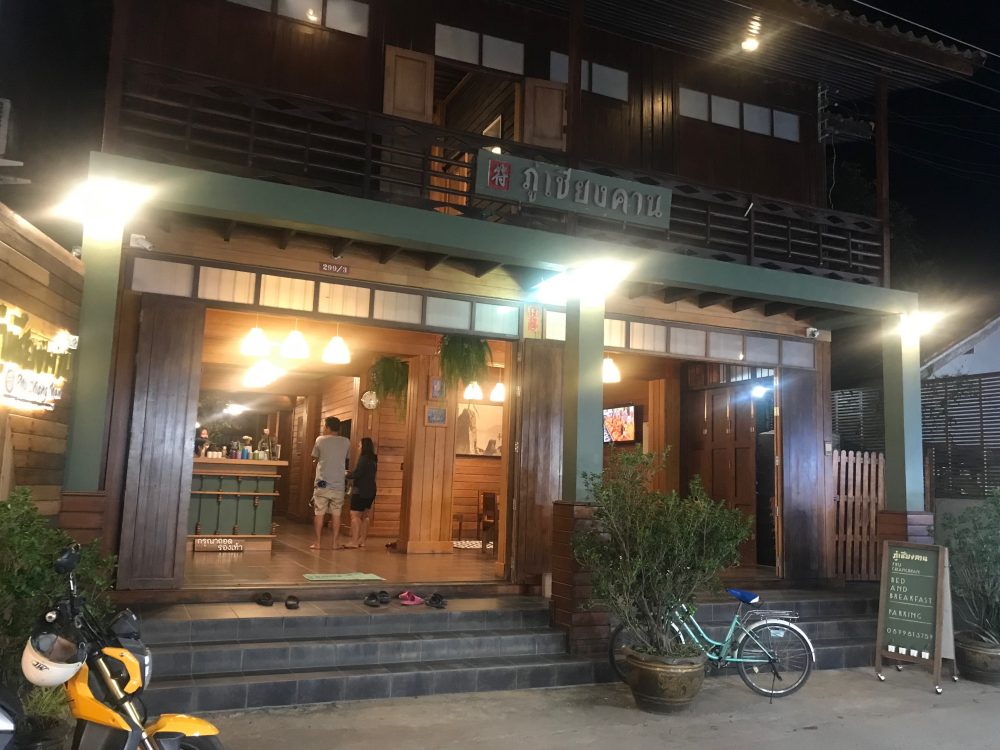 In opposite side of the cleaners, there was a big temple.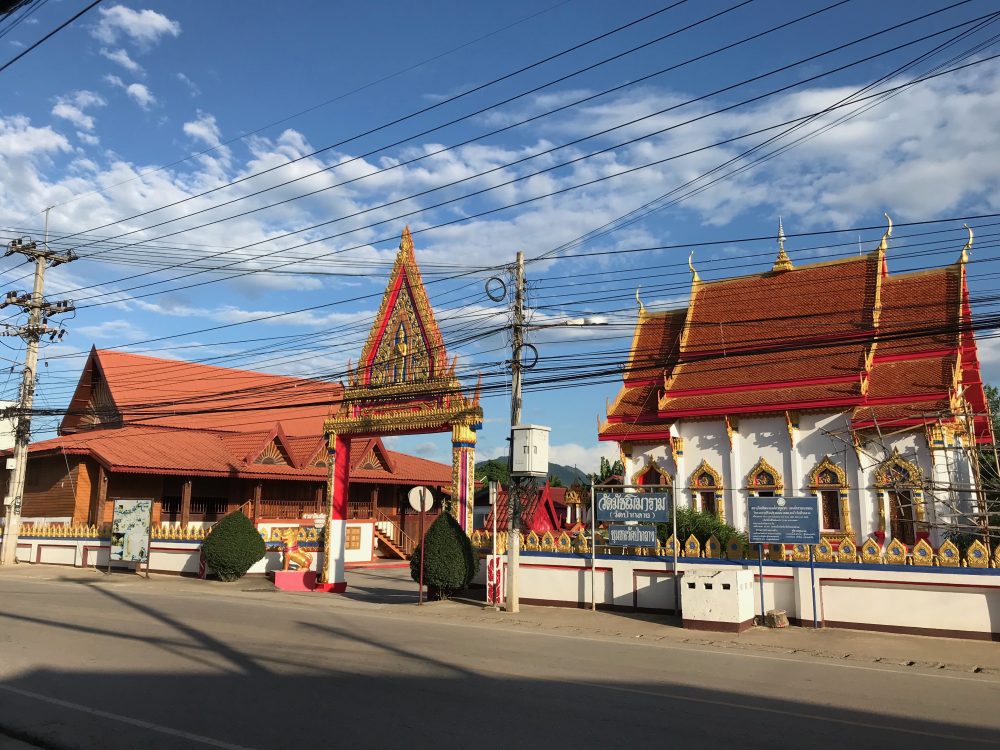 And seven eleven in such original color. Retro pink, it looked good.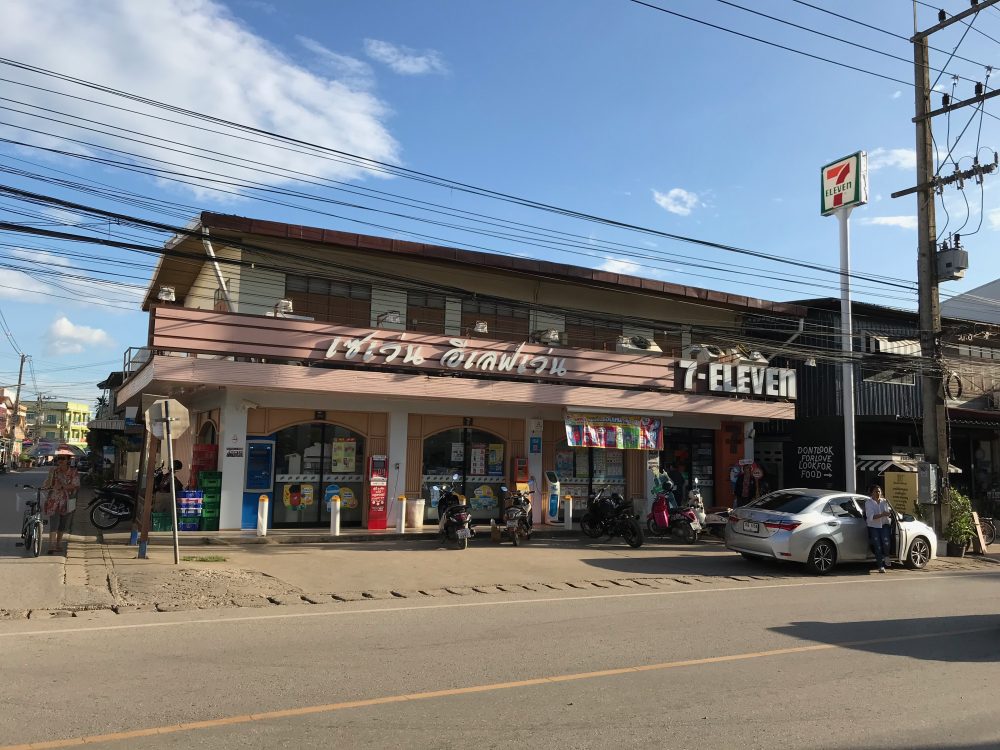 I stayed in my hotel room for a while and it got dark. This is the view from my hotel.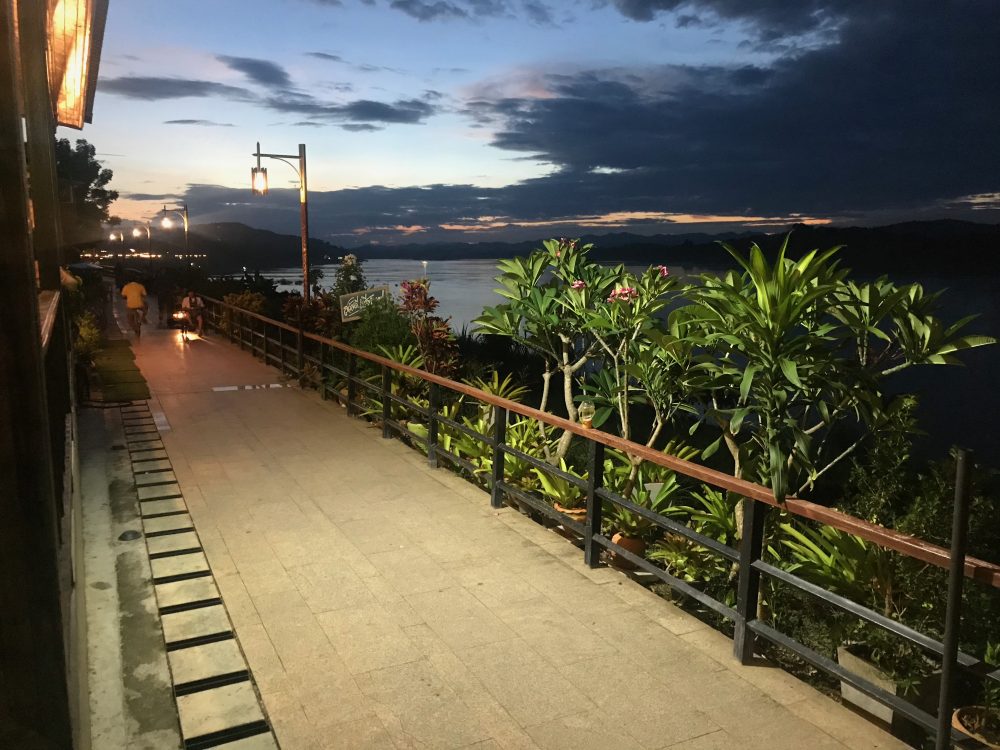 From the second floor of my hotel, I looked over the street from there then astonishingly, I noticed that it changed its atmosphere completely different at night.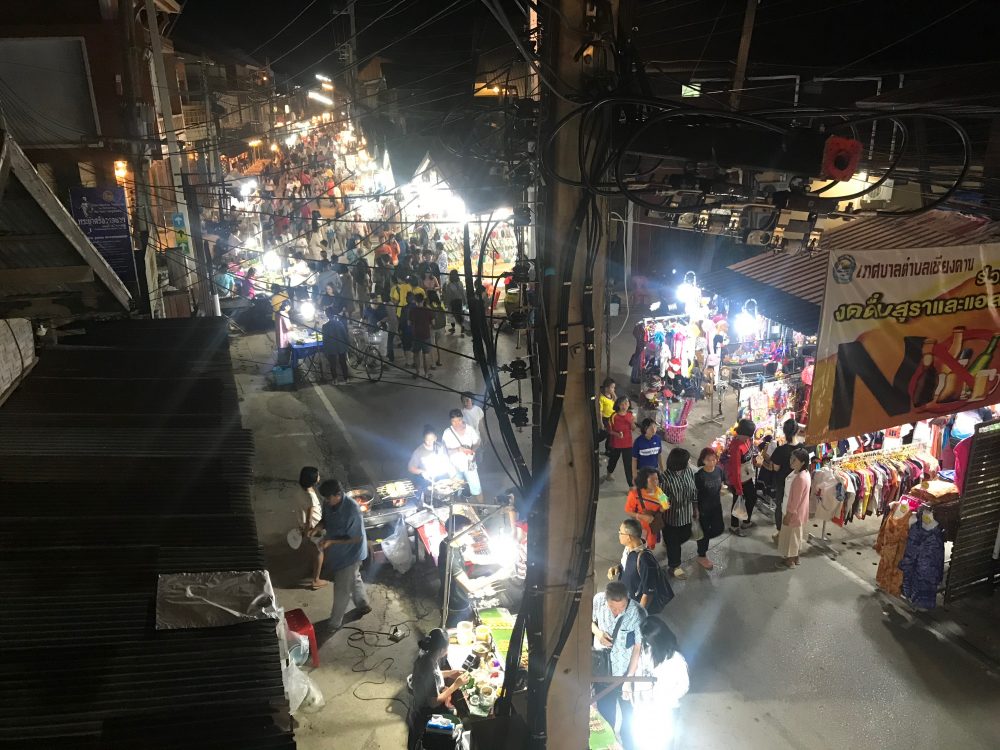 Though there was nobody in the street in daytime, many people flocked to the street and so many shops were open in warm bright inviting light.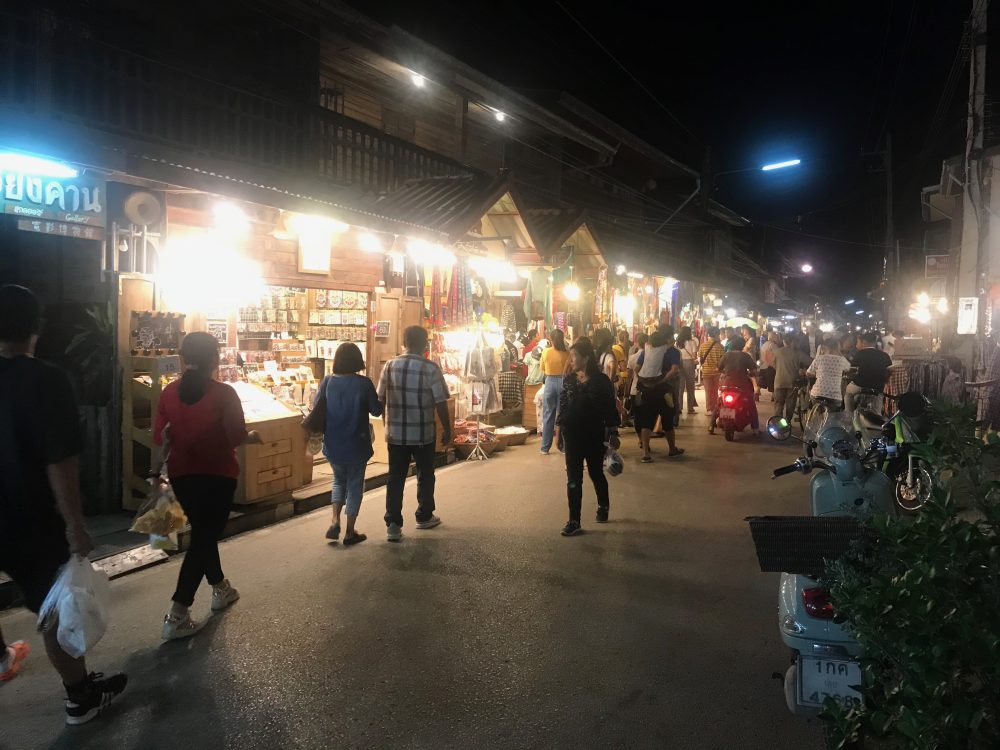 Nice coffee shop. There was a cat inside, good for cat lovers.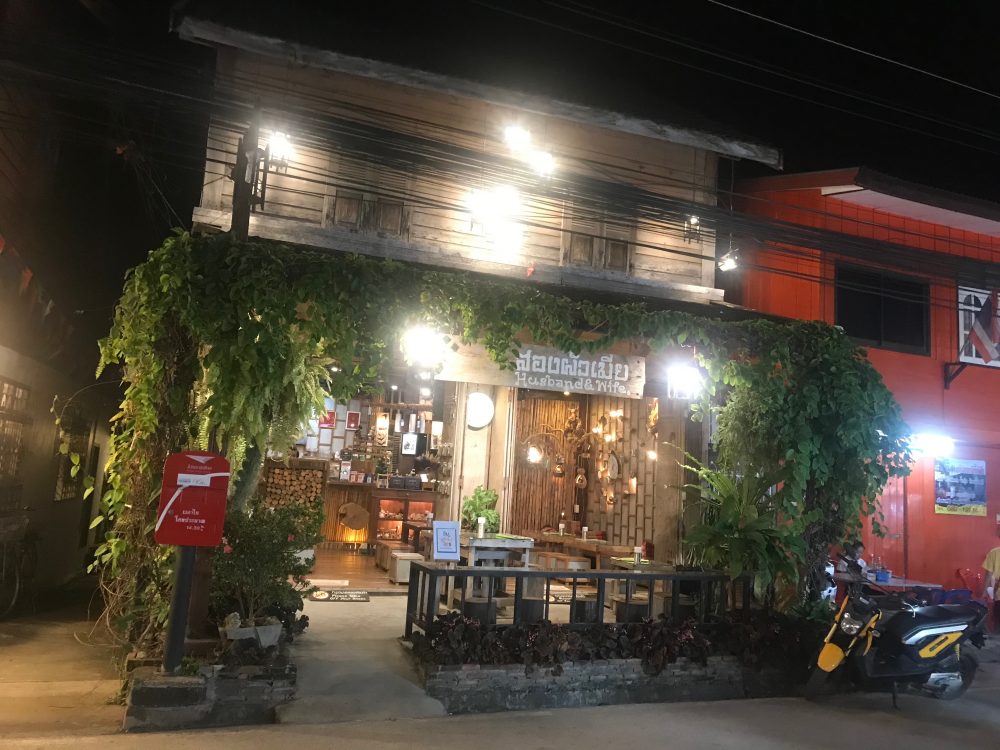 Art space. There were a lot of records and a bar counter.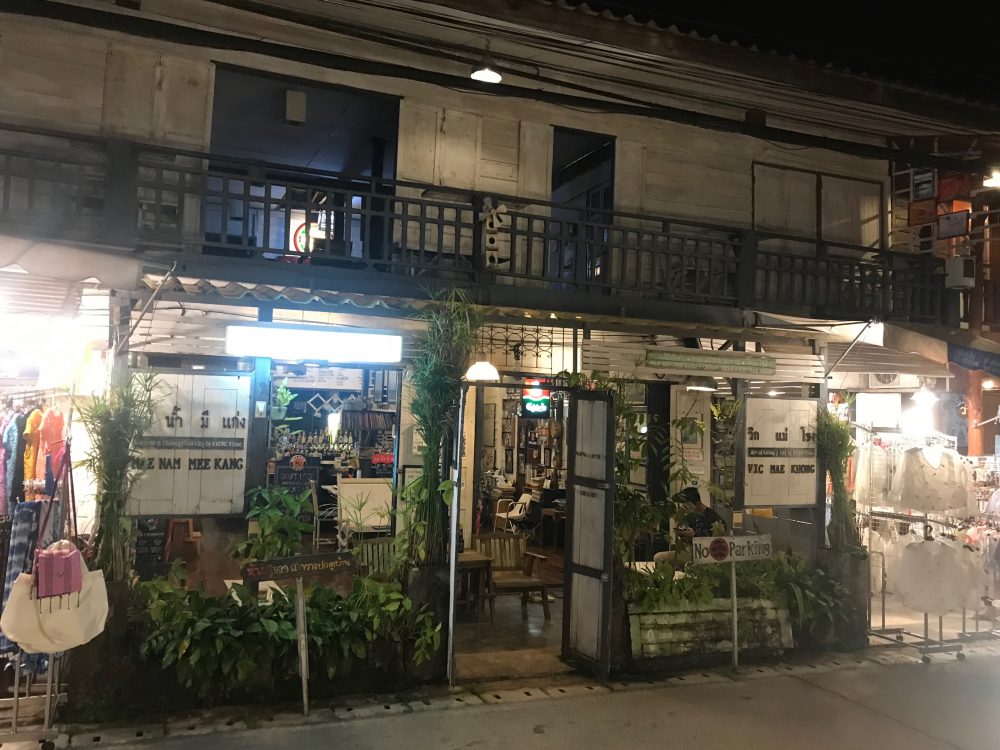 Local T-shirt shop. Bicycle printed T-short is popular here.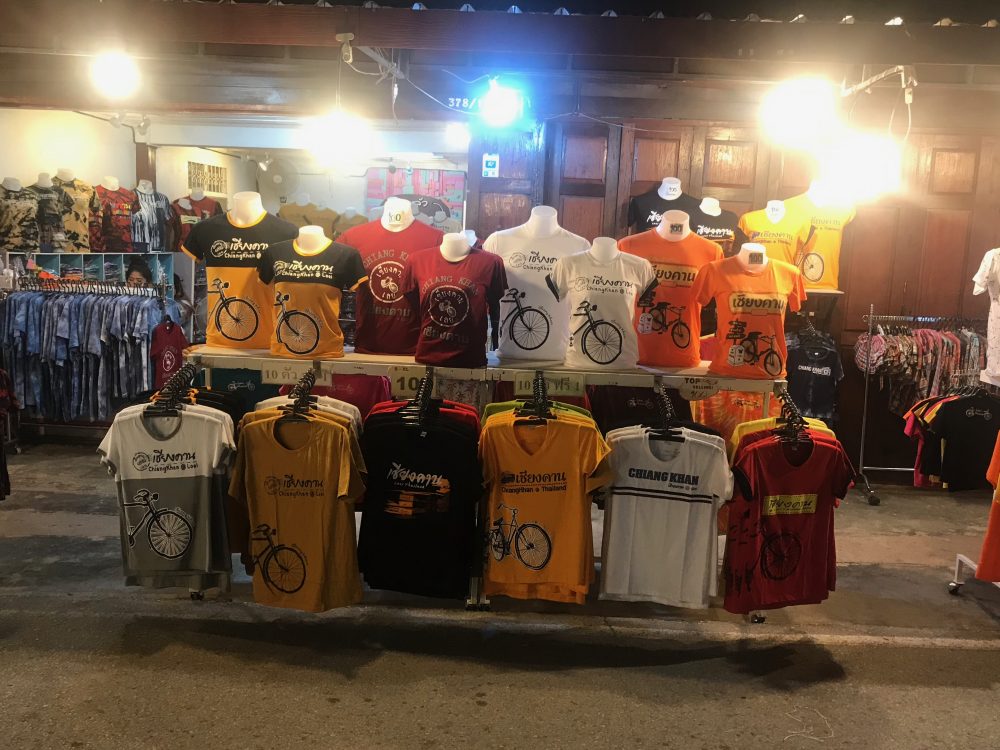 Hat for kids (or also for dreamy adults)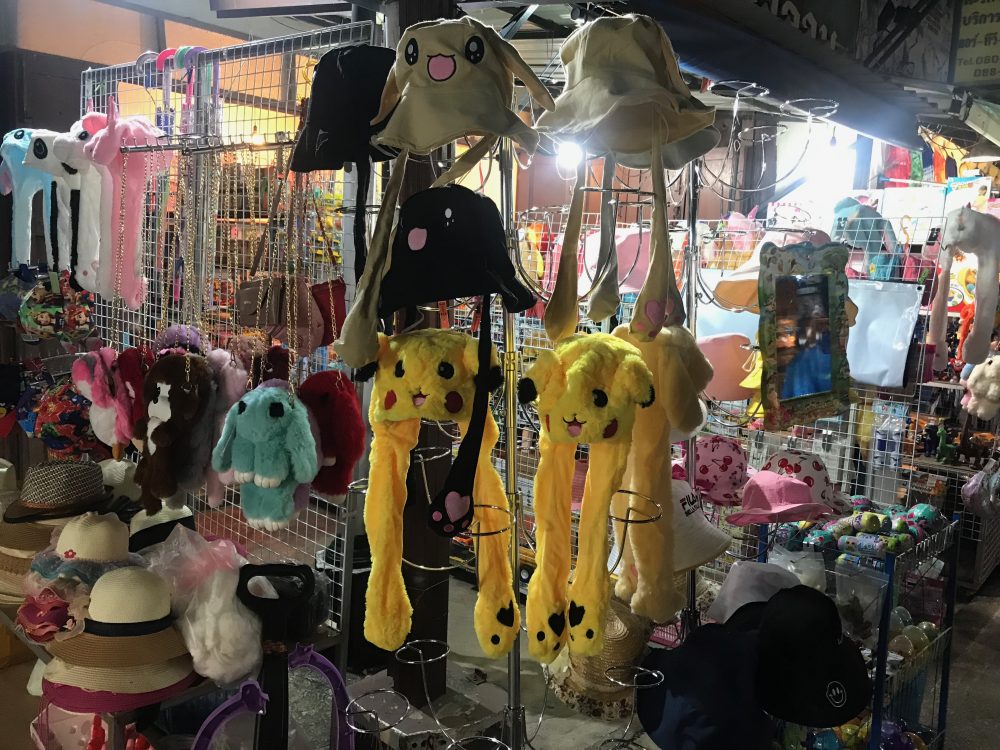 Food stands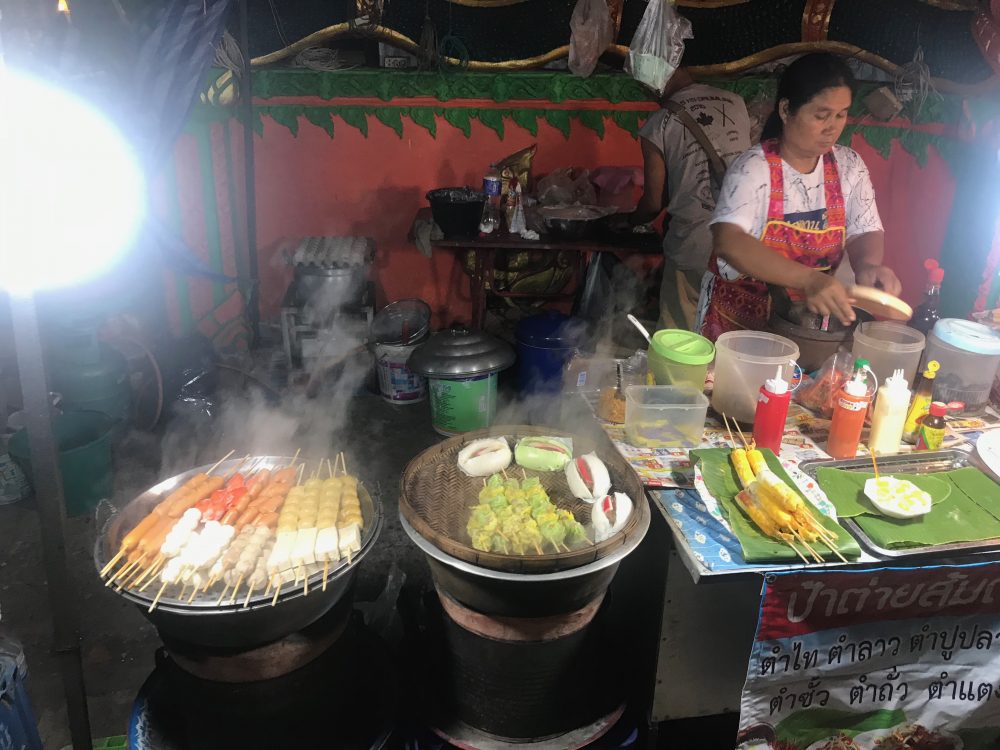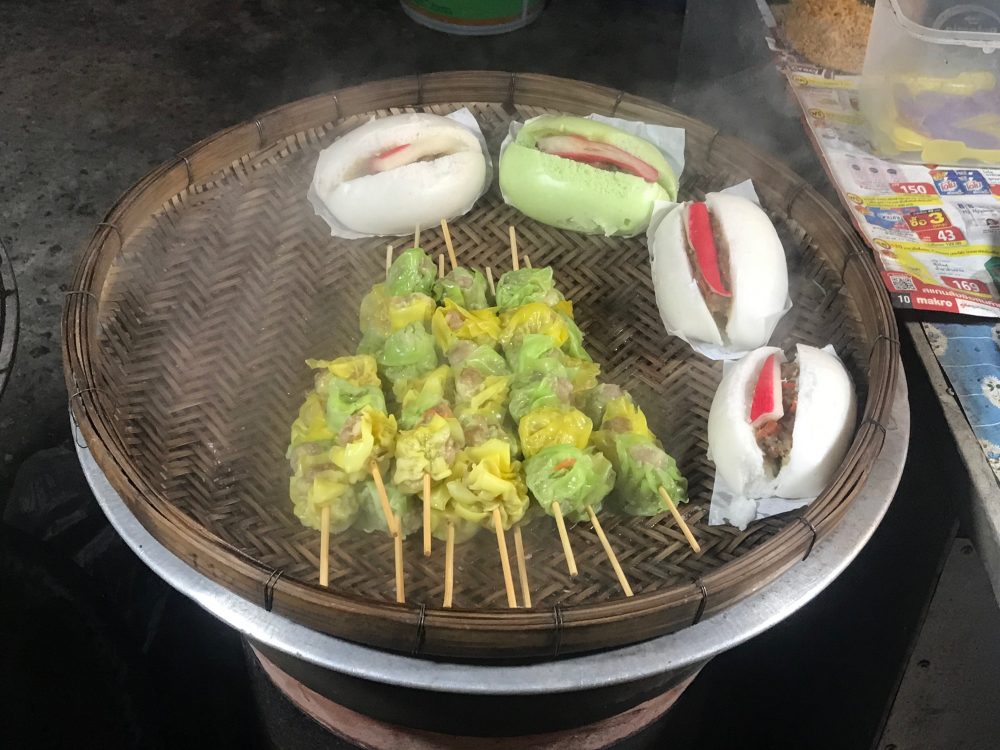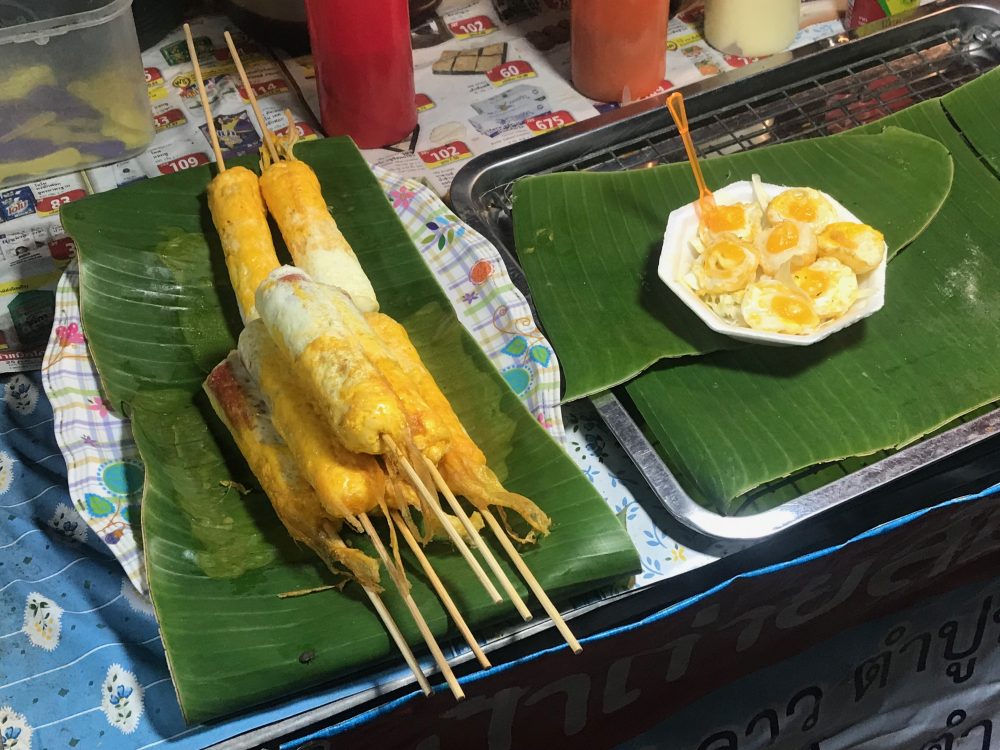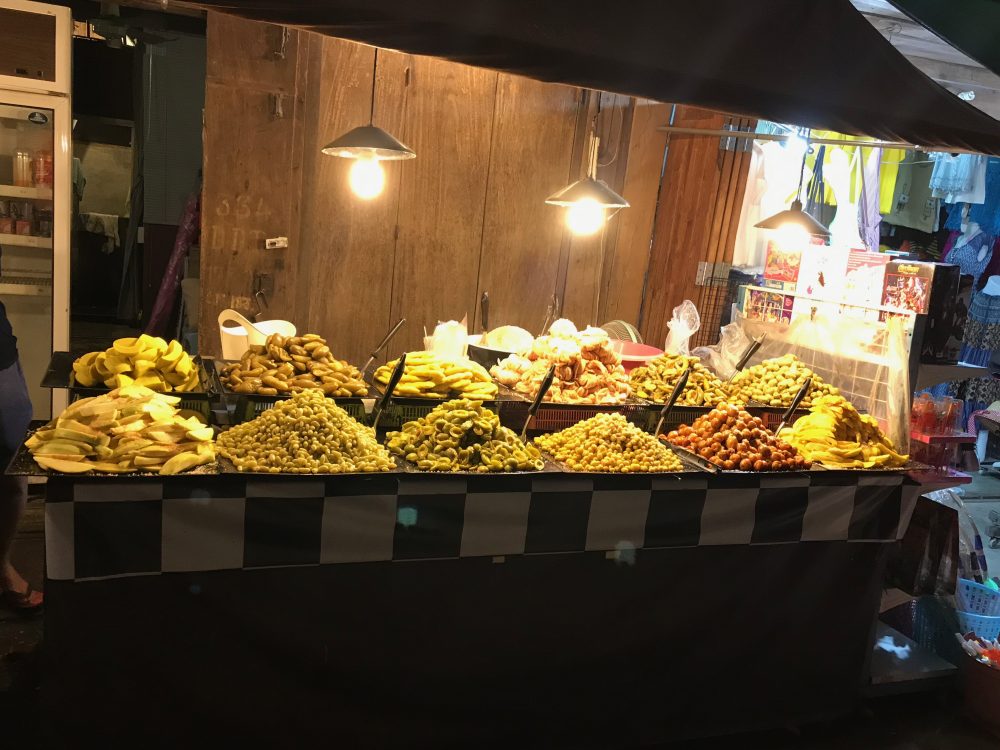 My choices were…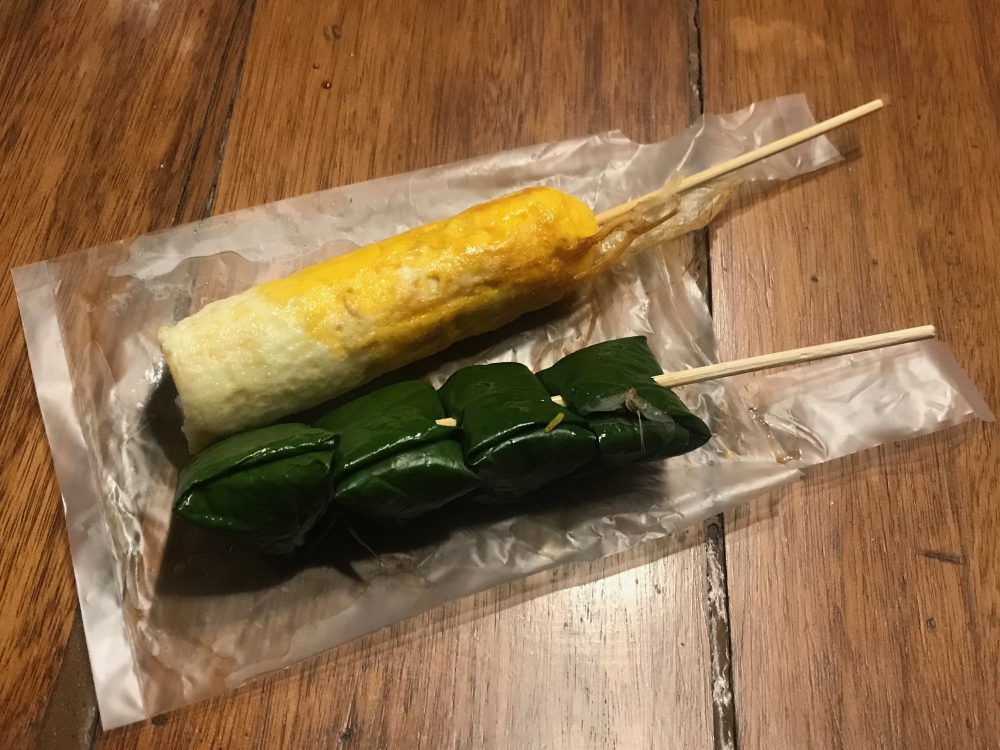 Sausage stick wrapped with fried egg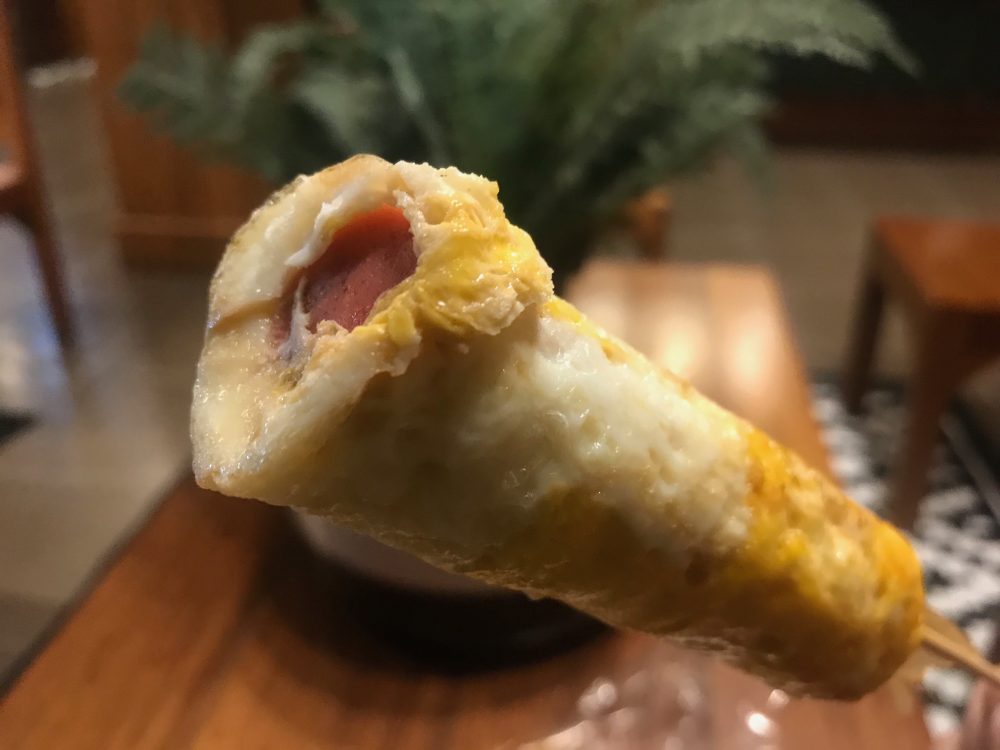 Folded salad leaves had peanuts and garlic inside. It looked nice but I couldn't guess what it was. I imagined that I needed to unwrapped it and there would be sticky rice ball or something like that inside to pick up but actually I didn't need to unwrap it. You can eat it as it is with the green leaves. It tasted so good and I liked this much. This was the no.1 hit for me in this walking street.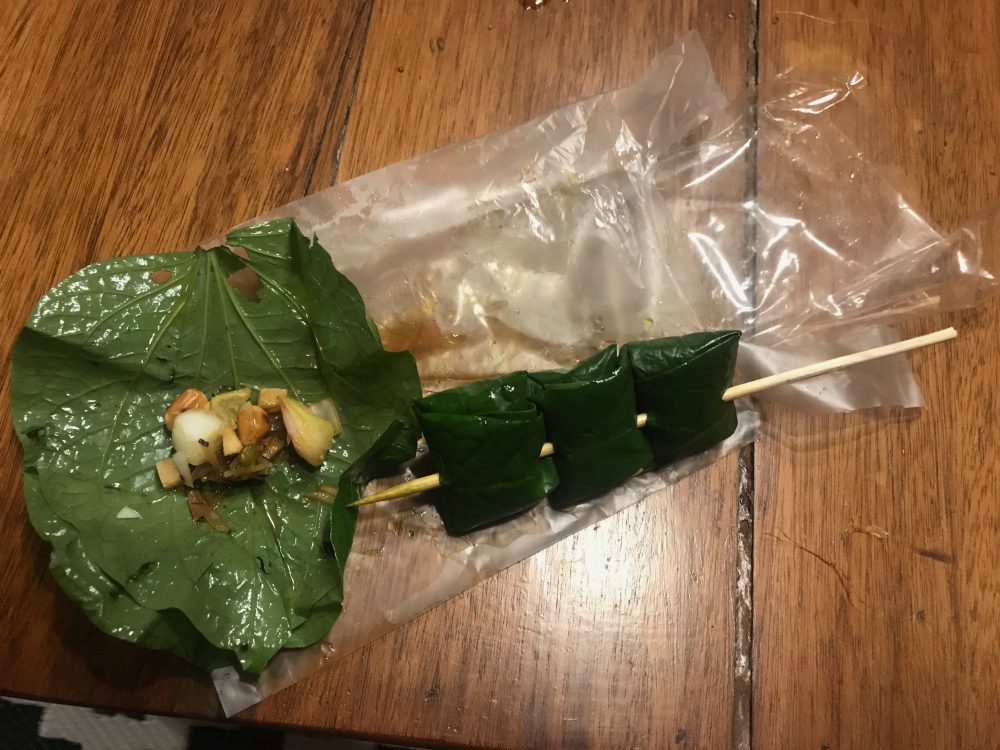 Passion fruit juice. I came to like passion fruit after spending some days in Thailand, I don't know why but it's good, haha.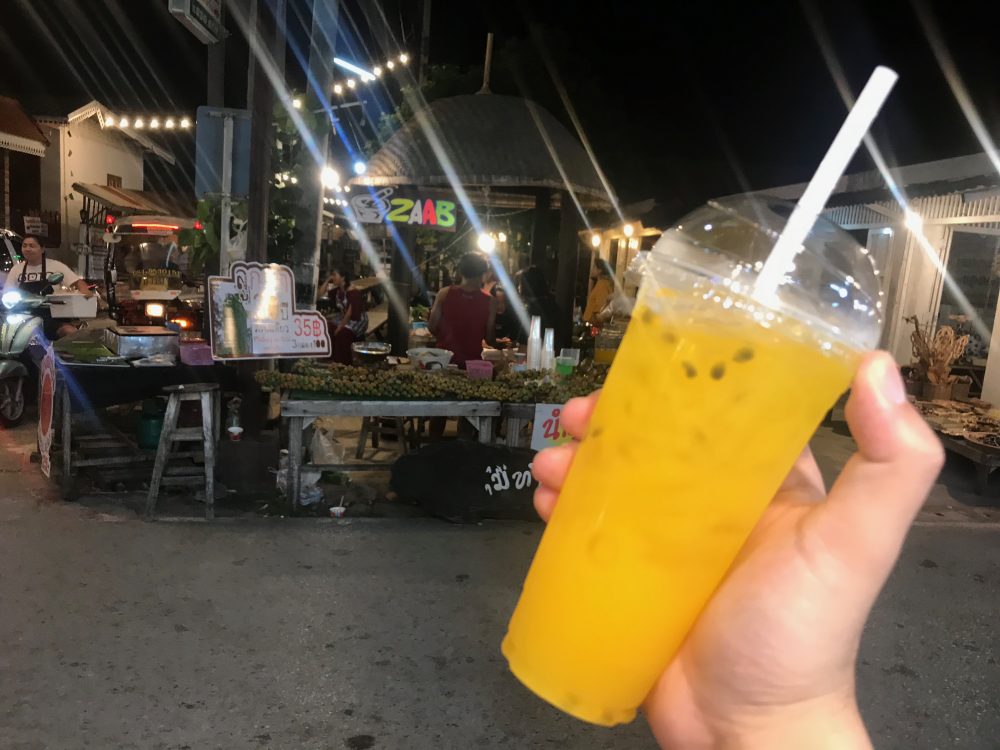 Baked rice cake. Looked so nice. Good for a big rice fan like me.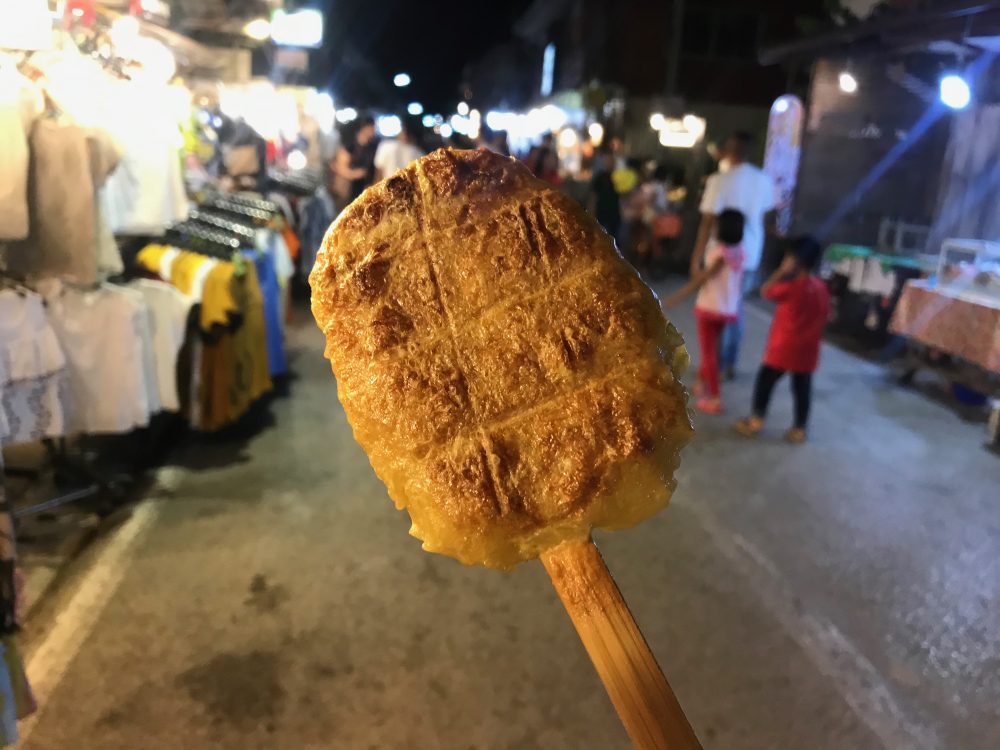 Dried coconut. I'm also a big coconut fan. Each piece is large and it tasted so nice.
Fried fish ball, tasted mild. But local people would eat it with a lot of chilis. I ordered without chilis this time. It hearts me even after long time has passed since I came to love Thailand.. I still need time to get used to them, haha.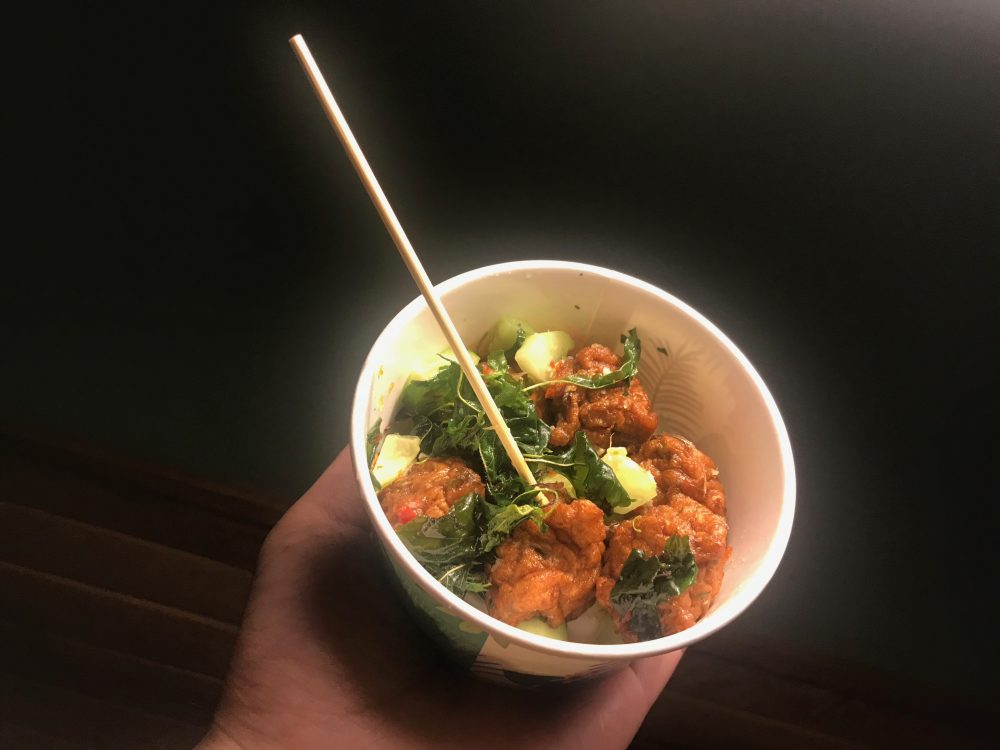 Grilled squid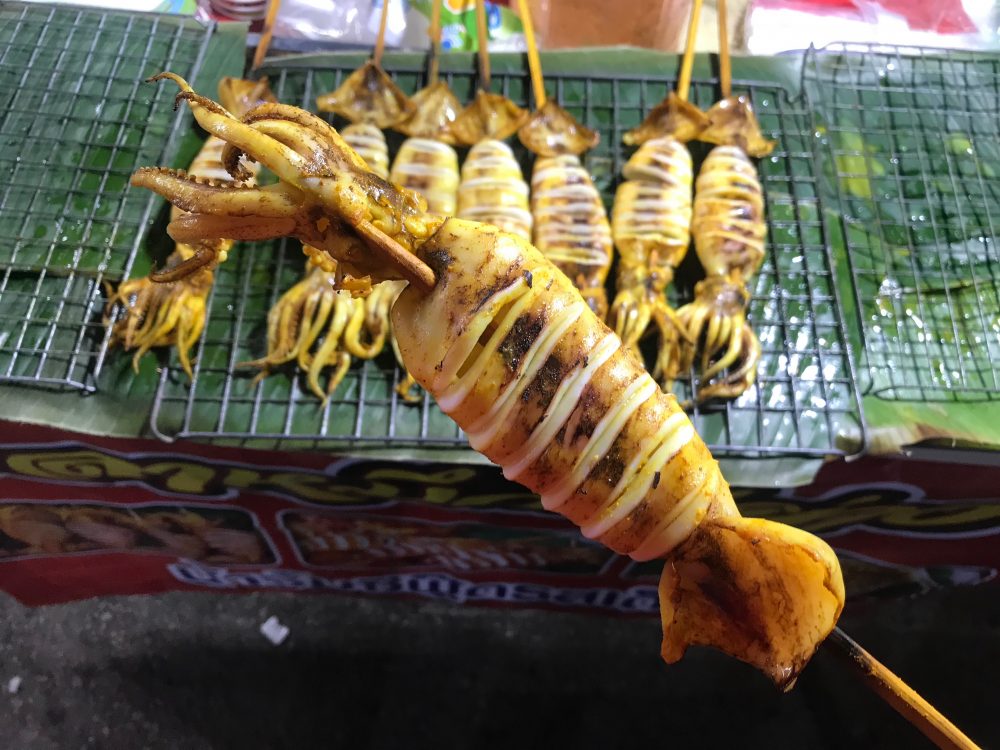 Actually it is served like this in a cup but the girl at the stand offered this sticked whole squid just to take a picture for me. She understands how my inner feeling told, haha.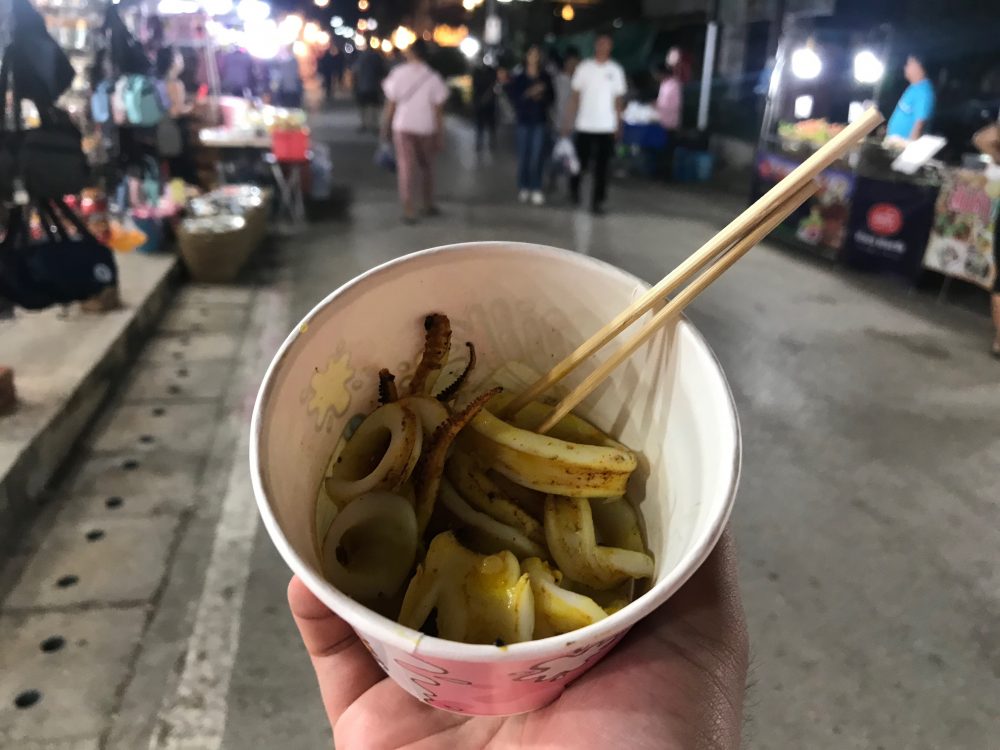 This blue food looked so exceptional and nice but I had no idea if it tasted good or not. But after trying it, I really liked it. This can also be no.1 in this street. Crashed peanuts inside and it tastes like sweet and salty as long as you remove the chilis on its top..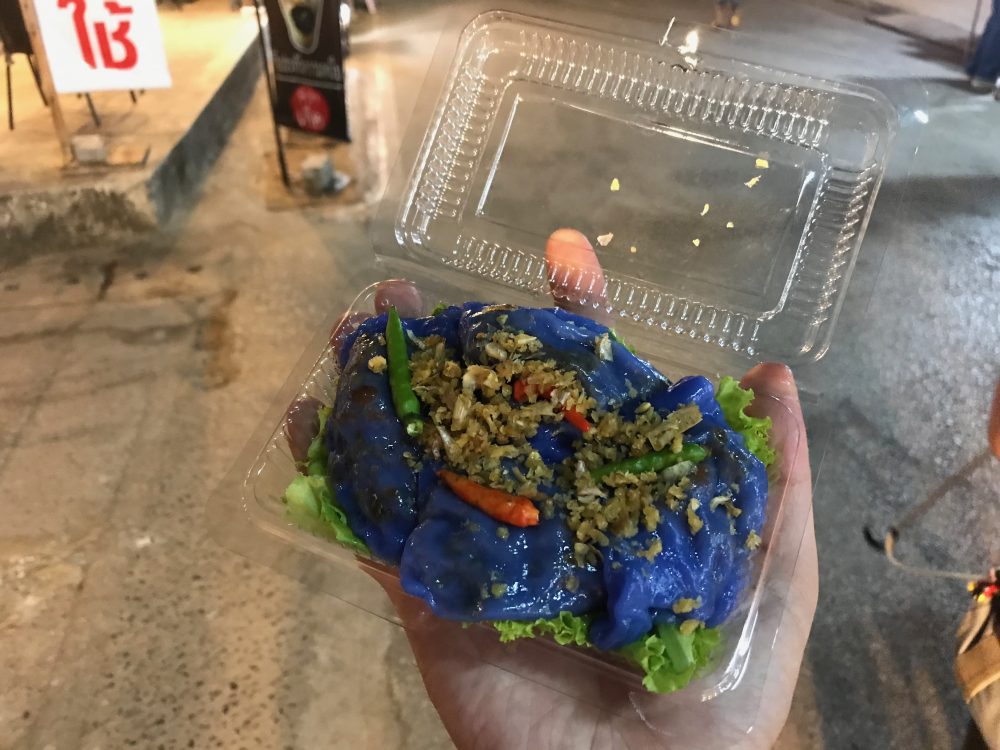 Craft beer bar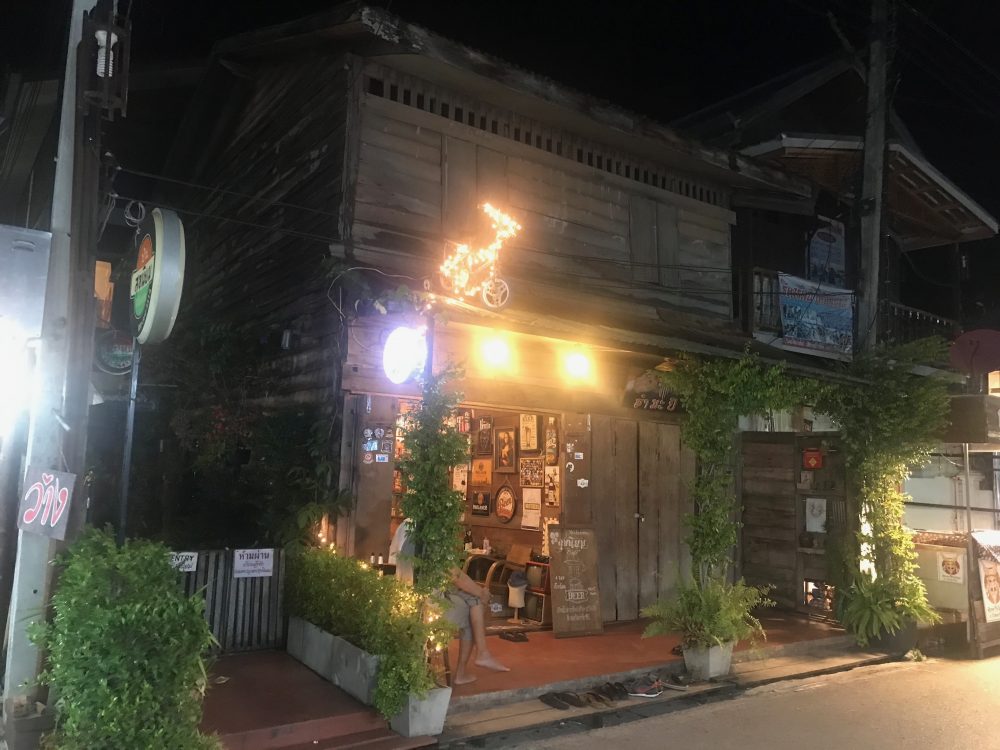 This bar was amazing. There were unique imported craft beers. Though all or most of them were not product in Thailand, it was really nice to know world's hidden taste.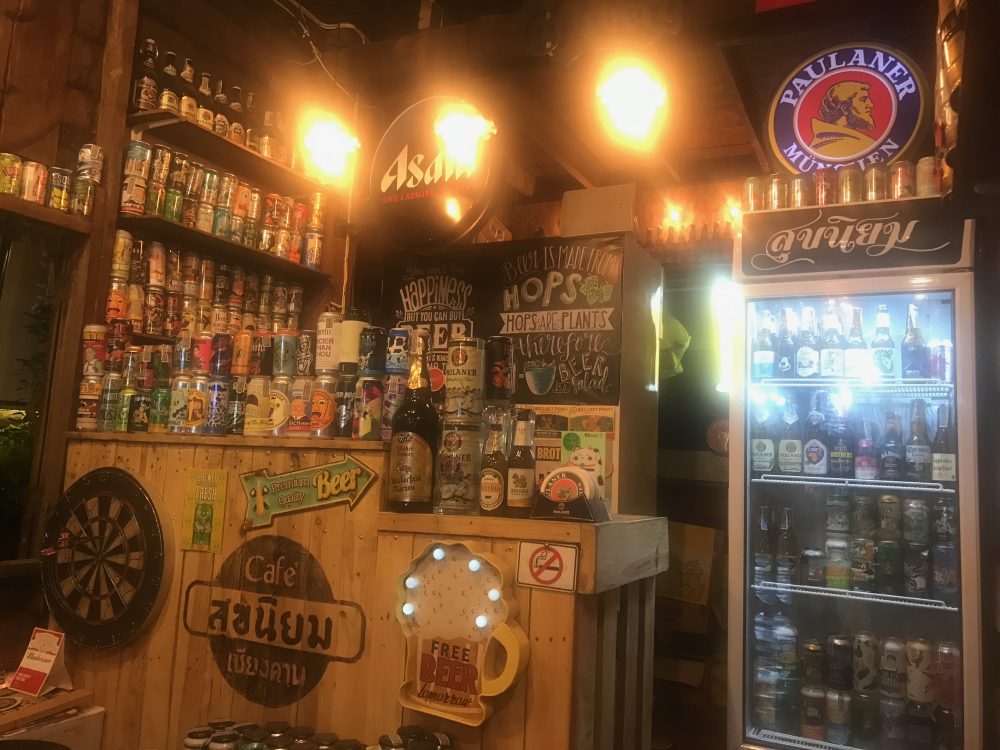 My choices were those beers. They were really nice. I didn't understand why it could be such nice, haha.
HOP GEEK (from New Zealand)
So much aromatic beer, it mjust be more than you think.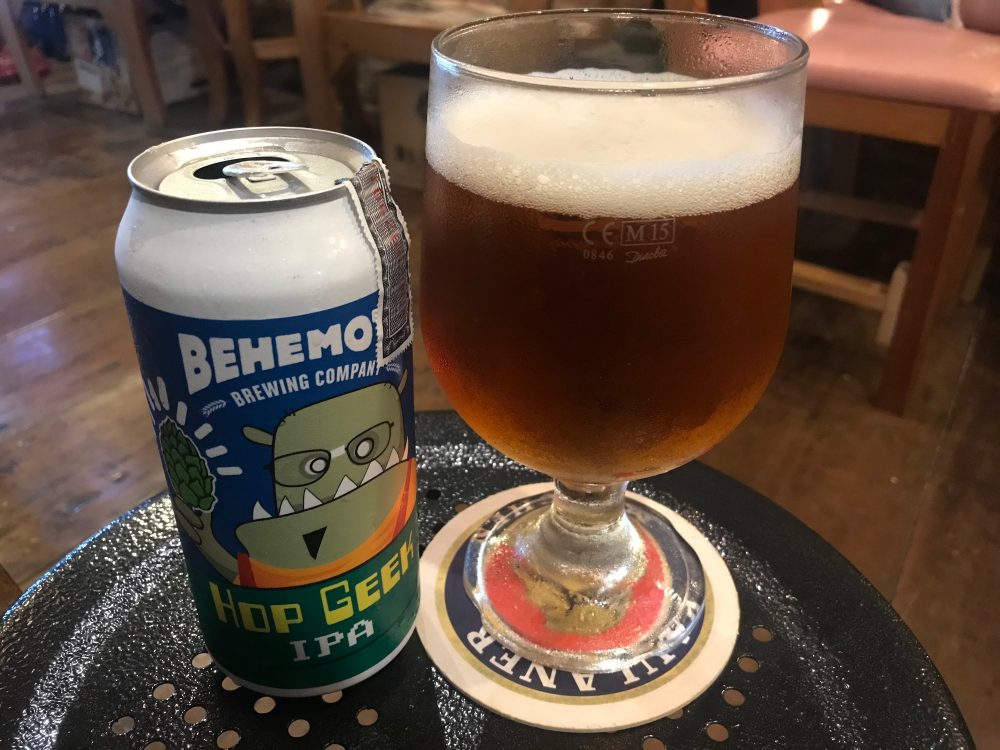 Stout called THE FIX PEANUT BUTTER (from New Zealand)
So strong taste but also unique. I like its name, I couldn't help ordering this beer.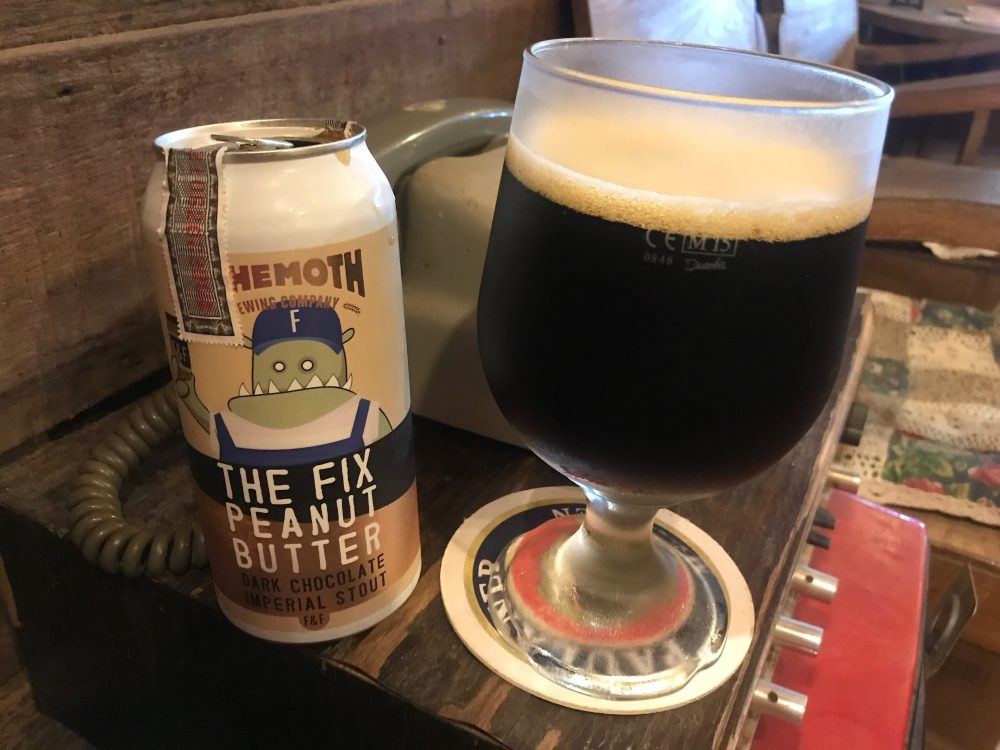 Post boxes were so small in cute look in here.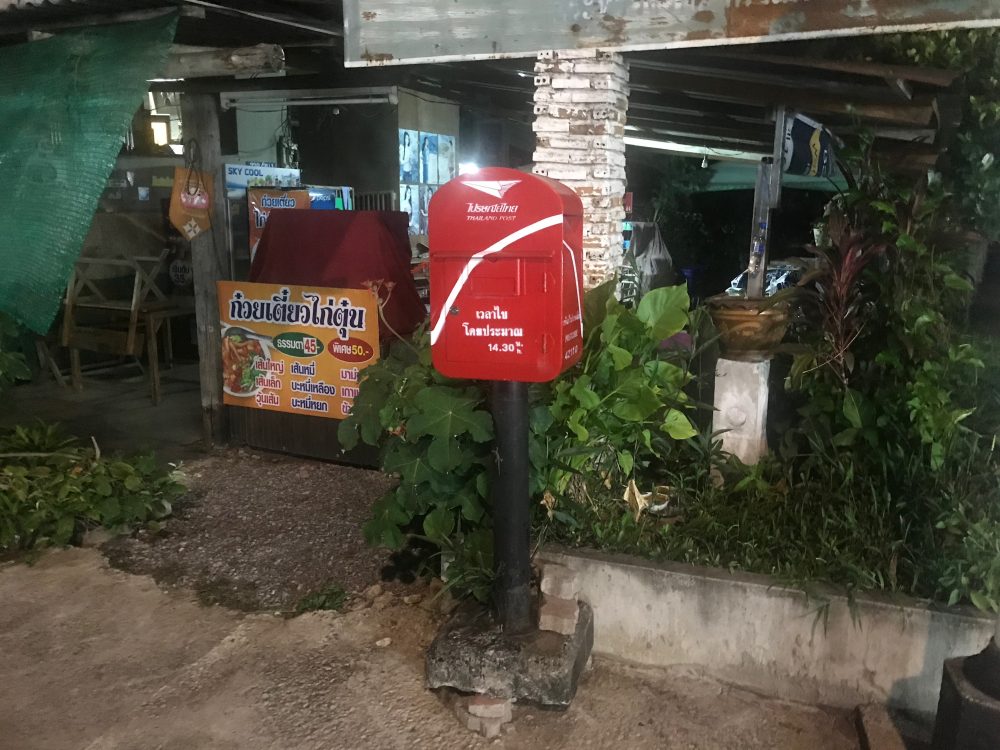 ATM got sexy? at night in pink light.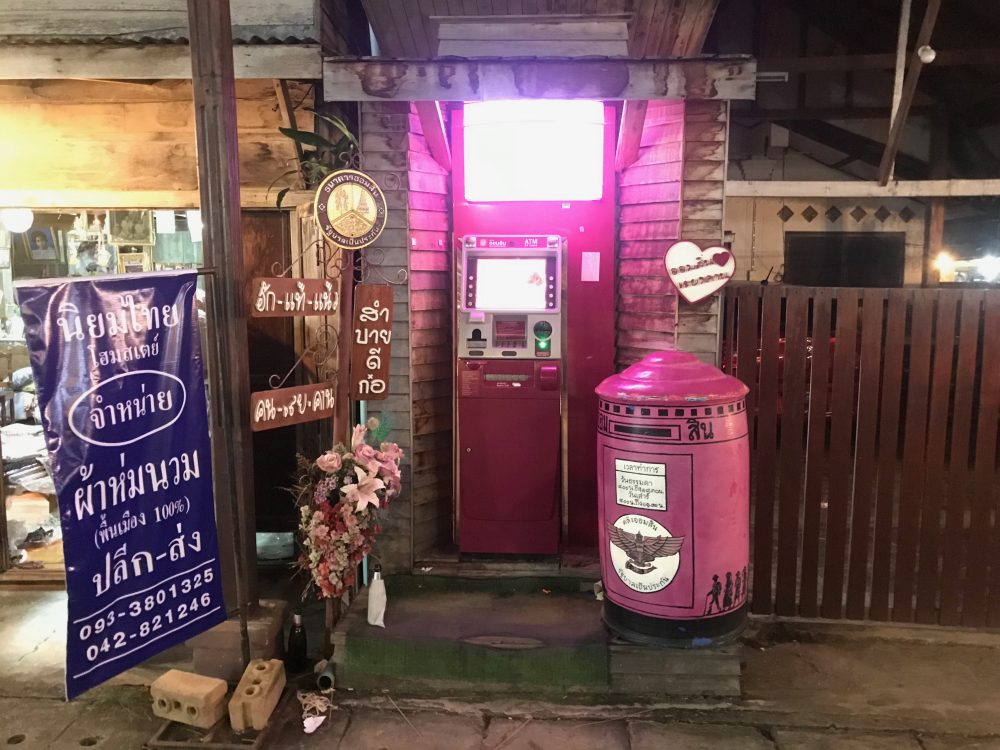 It was good to relax in a coffee shop like this.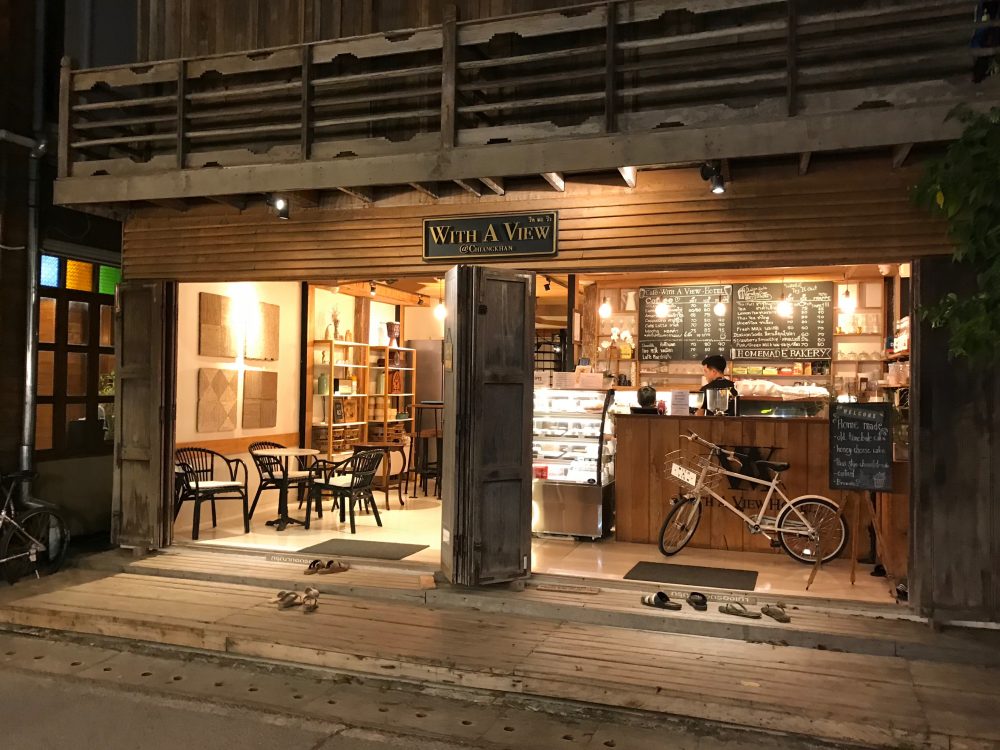 Actually it was a 1F of a hotel and breakfast is served there for hotel guests in the morning but so cozy for travelers with river view seats. Cake and drink were not sweet much and tasted natural.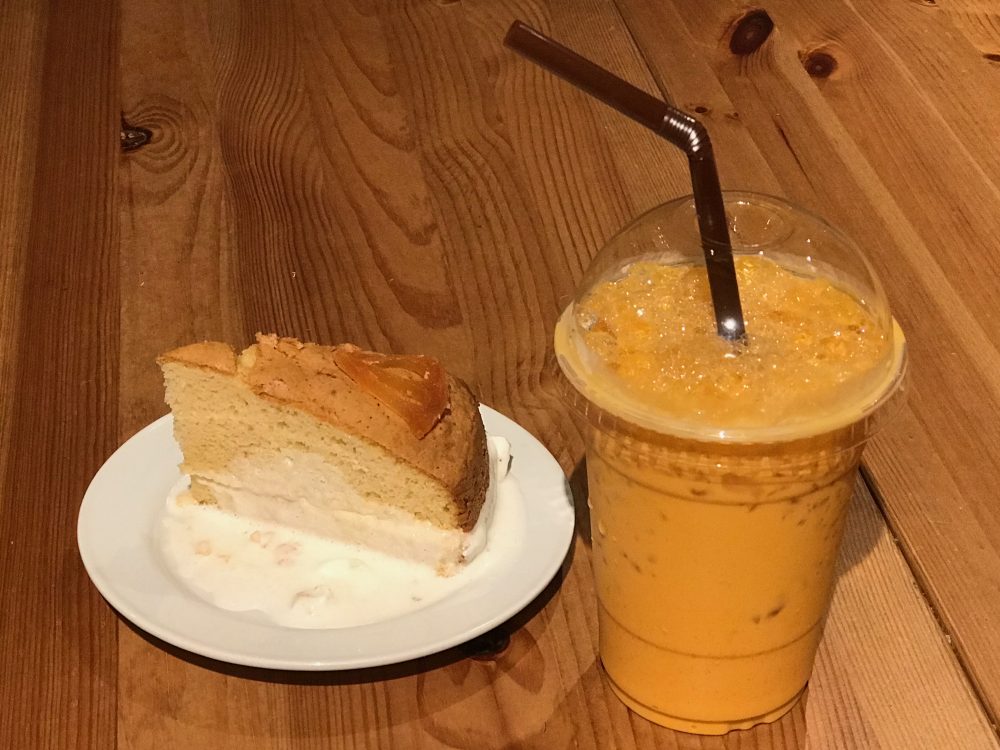 To be continued…